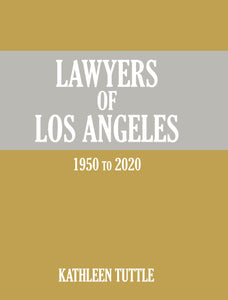 Lawyers of Los Angeles: 1950 to 2020 tells the remarkable story of L.A. lawyers and the L.A. County Bar Association (LACBA) that helped shape laws and events locally, statewide, and even nationally. Initially driven by a cohesive but insular group of "Spring Street Lawyers," in time, LACBA diversified and grappled with watershed issues of inclusion, equality, and access to justice.
Author and attorney Kathleen Tuttle explores the impact of L.A. lawyers and the LACBA that has reverberated far beyond L.A. County: 
The 1950s House Un-American Activities Committee investigations of the "Hollywood Ten." 

High-profile trials of Sirhan, Manson, and Simpson. 

L.A. lawyers who were key to bringing the 1960 Democratic Convention and 1984 Olympics to Los Angeles.

LACBA's 1974 resolution to end discrimination at elite private clubs. 

LACBA's impact on judicial independence.

Lawyer-leaders and their pivotal roles during periods of social unrest and political upheaval. 

L.A. lawyers—especially women and lawyers of color—became U.S. attorneys in the Central District, federal judges, and received presidential appointments in the nation's capital. 

LACBA's 1977 decision to support Public Counsel, still the country's largest pro bono public interest law firm. 
For those thirsting for L.A. history, this book is a must. With a foreword by former California Supreme Court Chief Justice Ronald M. George, Lawyers of Los Angeles: 1950 to 2020 highlights the world of L.A. law and shows how it earned its international spotlight. This book is published by the Los Angeles County Bar Association and Counsel for Justice.
Kathleen Tuttle, born and raised in Los Angeles County, is a Los Angeles lawyer who graduated from U.C. Berkeley School of Law in 1978, where she served on the law review. She began her career in Washington, D.C., with the law firm of Wald, Harkrader & Ross, and then took on Capitol Hill, first as counsel to the U.S. House Democratic Caucus and then as minority chief counsel to the U.S. Senate Governmental Affairs Committee. In 1986, Kathleen returned home to private law practice at Alschuler, Grossman & Pines, and later joined the Los Angeles County District Attorney's Office. In her first five years as a deputy district attorney, she prosecuted scores of jury trials involving violent crime before being named Deputy-in-Charge of the office's Antitrust Section. Kathleen has assumed leadership roles in both the California Supreme Court Historical Society and the Chancery Club, where she became president in 2020. Her writing has appeared in the Los Angeles Times and the San Francisco Chronicle; this is her third book. She lives and writes in Pasadena.

ISBN 978-1-62640-073-3

MSRP $50.00

320 pages / 200+ images

8" x 10" / hardcover